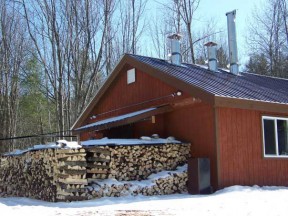 Sugartree Maple Farm, Producers of Pure Vermont Maple Products
The farm consists of 49 acres, which is wooded with sugar maple trees. For the past 10 years we have built ourselves up to 3,400 taps and sold the sap to a neighboring sugarhouse. During the 2009 sugar season we realized we truly wanted to take part in the full sugaring process and sell the end product – maple syrup and maple products. Our dream of building a sugarhouse and boiling our own sap into maple syrup, on our property became a reality. We quickly moved forward to  design and construct our sugarhouse dream with a deadline to start producing maple syrup for the 2010 season.
Our modern, wood fired sugarhouse is now built and fully designed by us, and has made us reach our goal of having a sugarhouse to produce maple syrup and maple products. We will be selling maple syrup, maple cream, maple candy and more from both our online Maple Store and Sugarhouse.
We have installed more tubing for this coming season, and expect to add more taps in the coming years. We also added a new vacuum system that helps remove sap from the trees. This sap is carried by the plastic tubing to collection tanks in the sugarbush. The sap is then pumped through more tubing to the Sugarhouse — where we begin the process to turn the sap into maple syrup.
Also incorporated in to our sugaring process is a Reverse Osmosis machine. This evaporates 75% of the water out of the sap before it goes to the evaporator and can process 600 gallons of sap per hour! Not only does this save time, but also saves wood fuel that would otherwise be burned by the evaporator.
If you are lucky enough to be in the Williston, Vermont area during sugaring season (mid-February through mid-April) stop by, we'd love for you to visit us!  There's a good chance you'll actually see the boiling of the sap into syrup and get a free sample taste of the delicious freshly boiled Maple Syrup.